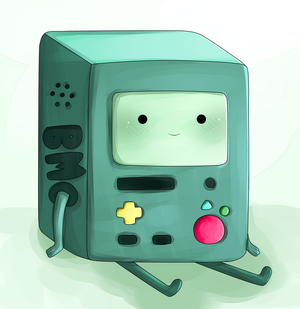 BMO is Iron Rigby's new RP character, along with the RP Crew's SEGA Master system.
Description
Edit
BMO is the RP Crew's game system. He is tall as a stool, and is very portable. He is not exactly the strongest person.
Powers and Abilites
Edit
BMO Chop - A basic karate chop. It is used to fend off attackers his size or smaller.
Red Button - He has a secret button that can transport people to games. Most of the crew uses this to train.
Basic Hand-to-Hand Combat - He can fight off most attackers about his size, smaller than him, or slightly bigger than him.