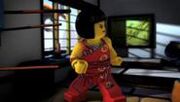 Nya Bilens
is the younger sister of Alex and the identity of Samurai X. She has a crush on Drakath and appeared in the RPs Solitude's melody, Journey to the Underworld, and Godzilla: Battle Royale. In
Journey to the Underworld
, she was captured by the Trio of Destruction along with Angry, Ed Walker, Edna Walker, and Audit. In
Solitude's Melody
, she was separated from her crush (
Drak
), and they were the only ones who had faith in Aphrodite's plan. In
Godzilla:Battle Royale
, she was captured by the Trio of Destruction again. And in X Marks, she is captured by Red X along with Mal's hollow mask.
She was one of the 5 female characters who appeared in the RPs. In order: Nya, Edna Walker, utter solitude, Aphrodite, and Shane.
She is kidnapped in Solitude's Melody by IT.
Nya is captured in every RP she appears in except Wrath of Wargoth.